Donations for Mission Heal| Fundraising For Poor Children and Families
Significant donors are the people who give the most money to a particular charity. The amount they must pay to achieve that an objective of social life development depends on the beneficiary's spending plan. Donation for Mission Heal generates funds for helping underprivileged families & children. Our NGO strives to serve more families for which we are looking for more support.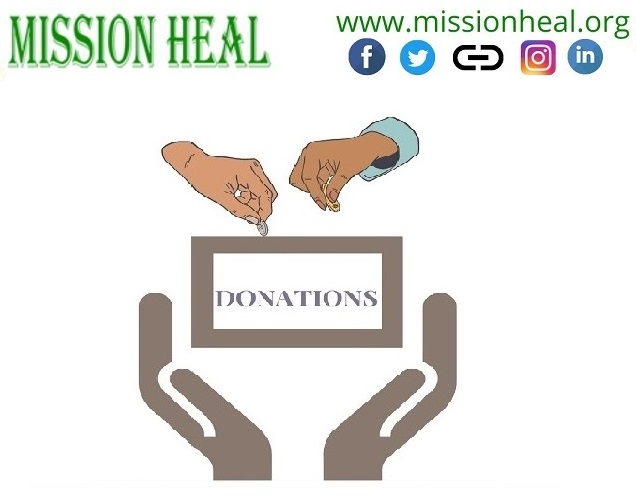 Fundraising is the primary advance for running and tacklingselected projects and exercises of the NGO. The NGO is for the most partfundraising for various issues and various projects. For which individuals and coordinators of the NGO structure design, register, and run the NGO. Our NGO focuses on upbringing the lives of people living in slums.
Mission heal is an established NGO, helping the poor and oldies in the city. We have been helping the needy People and children for their betterment. And trying to improve the life quality of the Poor. We run various awareness programs to make people aware. And keep themselves safe from some deadly diseases like AIDS/HIV, and Cancer. Our NGO provides support to children and families in need.
Donation for Mission Heal are necessary because the monetary support required goes to the society development projects. Raising funds is a vital element for an NGO in helping children. We as an NGO have pledged to serve humanity.
What does Donation for Mission Heal do in supporting the Poor!
Protein-Giving Food: Children suffer the most from any kind of diseases. We feed 1500-2500 poor individuals and children daily. The food contains a proper diet, which protects them from hunger as we as Malnutrition.
Counselling Facility: At our Rehabilitation center, we support the lives of poor people by providing them counseling.
III. Educational
Support: Education is a necessity for the upliftment of society. This is the basic right that every child should get. Our volunteers go to villages and encourage families to send their children to schools. No matter what their gender is.
Hospital and Medical Help: The Mission Heal provides medical support to children and families in need. We support many OPD cases, where a family is not able to pay the medical expenses.
Awareness of HIV/AIDS: Our NGO volunteers, visit several houses, and aware people of these deadly diseases. These diseases are non-curable. Creating awareness of such life taking disease is necessary.
Self-defense Training: Women's safety is among one of the biggest concerns. Because, as an NGO this is our moral responsibility to make women feel secure & safe. Women's safety is an important factor in the county's development. As a developing country, the Indian Government always focuses on the safety and security of every individual. Our Organization supports women's safety.
We as a responsible NGO urge Donation for Mission Heal so that we can help the persons in need. We feed poor families and children. Without a doubt, feeding & helping will help us in creating a relationship between the poor and us. Our NGO had identified an immediate need to help these families and children. Our organization is thankful to every donor for believing and supporting us. For detailed information, you can visit our website https://missionheal.org/. For supporting us you can click on the given link https://bit.ly/3ttYhXx/.