Non-Government Programs| Help those who are less fortunate than You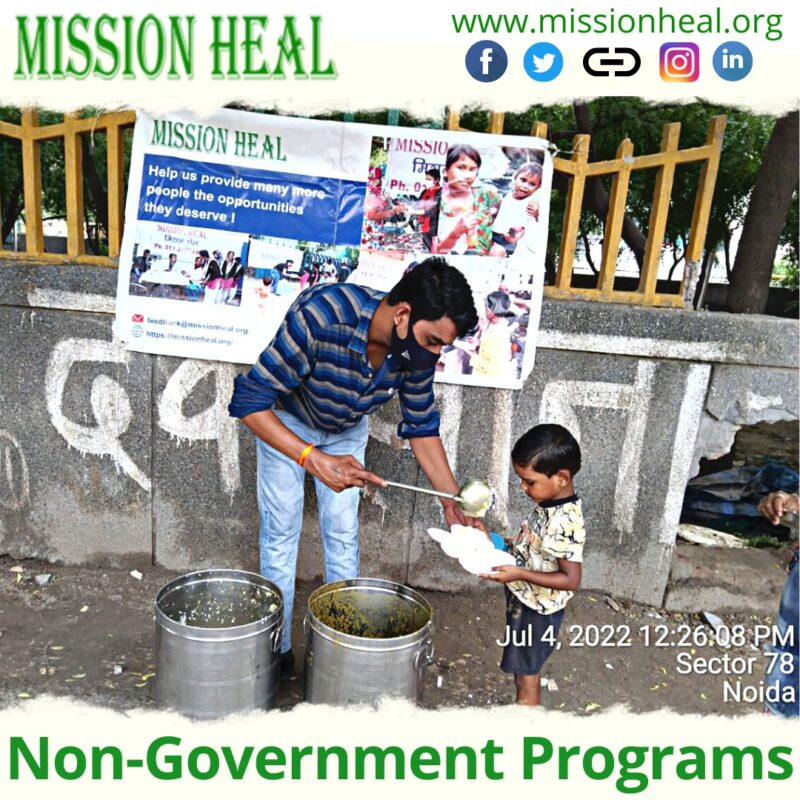 Mission Heal NGO runs Non-Government Programs to help low-income families. We believe serving humanity is the best thing a human can do in his/her whole life. Our NGO helps those families and children who cannot meet their daily needs. A quote says " a good deed never goes useless". We promote equality in society for which we provide education to children in slums.
This charitable foundation provides free food in slums. According to our activities we feed approx 5000 people. We conduct our distribution at various places in Delhi/NCR and U.P. . Feeding these families is very important as they have very less supply of funds. They are mostly illiterate people who earn daily and spend daily. These families hardly save money for the future.
Our NGO aims for a world where everyone should be treated equally. We promote healthy habits as these people live in the most hazardous situation. This charitable organization serves the poor people through Non-government Programs. Many families are very helpless that they eat food from the dustbins. Our question is why waste food when so many people are losing their life due to hunger.
These people are hopeless and our NGO tries to build a ray of hope into their lives. We visit several villages where we motivate children for studies. As studies are the only way by virtue which we can enlighten the lives of the poor. These families cannot afford the minimal expenses of medical. That is why Mission Heal provides free medical services to the families in slums.
What is the need to help poor families?
There are millions of families who are starving for food. These families do not have clothes, health facilities, education, and food. Our charitable foundation runs various Non-government Programs that help in their survival. Helping them in their survival gives us immense pleasure. Whatever is the situation we always come forward to help the low-income families. We celebrate our all festivals and important days with these families only.
A lot of people think that is why they donate to poor people. They think that they are not liable for helping them or taking care of them. Our NGO had supplied rations to many families during the Covid lockdown. These families struggled the most as their all sources of income got to hold. Also, all their little bit of savings finished in a couple of days.
Many people lose their lives because they cannot afford the expenses of a hospital. They are not able to pay the expensive bills of the hospitals. In many cases, the diseases and the illness are not very big, but the threat of not being able to pay the bills kills them. We all know that if we are suffering from any disease and we do not get the proper treatment it will increase. These financially disabled people need your help and support to get treated.
The Mission Heal NGO urges our readers and donors to support us and have faith in us. We are only hoping for the welfare of these families and their children. Come forward and support our NGO. To check our work you can log in to https://missionheal.org/. For frequent updates, you can follow us on Facebook, Twitter, LinkedIn, and, Instagram.